Tideways Launch
Overview
A perfectly versatile day boat

The Tideways Launch is the perfect day boat. She is based off old Port Phillip cruisers, with the foundation laid by that of fishing and working boats. Her design is timeless, and a similar, smaller option to those wanting to mess around in boats, but who aren't quite ready for committing to an Efficient 44 or Deal Island 50.

The Tideways is sturdy, and has cruising capacity to go further afield, such as down to Wilsons Prom, or even Hobart and beyond. She is modular and has the potential to be utilised for a variety of purposes. She has all the basic offerings, a galley, large bed, and a day bed. The Tideways Launch is a superb family boat, offering something for everyone, perfectly matched to the waterways of Port Phillip Bay.

Length 36'
---
Beam 13'6"
---
Draft 3'6"
---
Power John Deere 4045TFM50 150hp @ 2600 rpm
---
Top Speed 9 knots
---
Cruising Speed 8 knots
---
Water Capacity 300 L

---
Fuel Capacity 400 L

︎ Modular fit out
Versatile interior that can be arranged and re-arranged according to shifting needs.

︎ Swim platform
Making swimming, fishing, and diving extremely easy-going and relaxing.

︎ Sun awning
Ability to stay in the shade all day with an extendable canvas sun awning.

︎ Twin cabin
Two beds for afternoon naps or overnighters

︎ Galley and barbeque
To make impromptu meals all the easier.

︎ Advanced electrical system
Including anchor winch, navigation software and autopilot.


Heritage

A local boatbuilding legend

Around the 1940s Jack Pompei begun building boats from his shed in Mordialloc, soon establishing him and his business – known as Pompeii's Boats – as one of the finest boat builders in Australia. Jack was renowned for his efficient, sturdy constructions, and built many fishing and pleasure boats in the Victorian fleet, as well as constructions for further afield.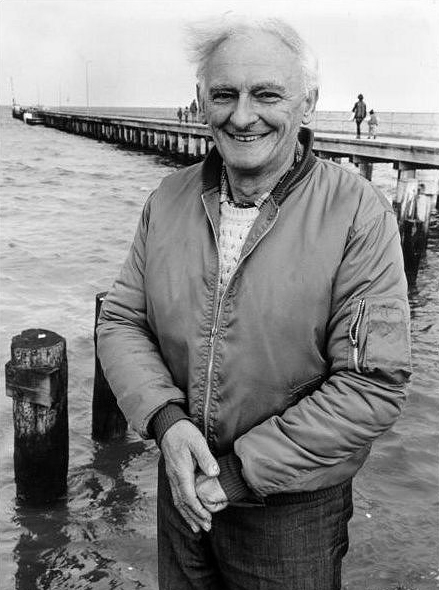 A boatbuilding collaboration
During the era of couta boat racing at Mordialloc in the 1990s, organised in large part by
Nigel Abbott
,
Tim Phillips OAM
received Jack's enthusiastic blessing that The Wooden Boatshop would be able to build a Pompei-inspired displacement boat.
Paringa,
a pleasure boat built by Jack Pompei had been a much-admired local boat to Portsea and Sorrento, and Tim was interested in building a carvel planked pleasure boat. Thus, our Tideways Launch was born, and is largely inspired by Jack Pompei's ingenious, early designs.
A carvel planked displacement boat… designed for Port Phillip!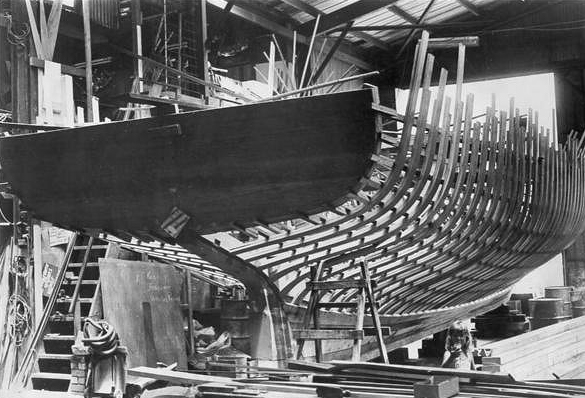 The
Paringa
, and many others of its ilk were built specifically for cruising on Port Phillip Bay. It is the complete package in terms of cruising. The Tideways Launch is capable and sturdy, able to go further afield if warranted, and is an ideal craft for robust young families looking for a versatile overnighter with a cabin, bathroom, and fully stocked galley. The cabin is built to Jack Pompei's original specifications, with the two portholes and shape largely in sympathy with the original designs. The Tideways Launch suits those looking for a spacious and relaxed vessel, where the journey is just as important as the destination.
Testimonials

"My wife and I were looking for a perfect day boat for our family down at Sorrento. We wanted a boat with plenty of space to handle the energetic movements of young children. We needed a boat with cabin space to give the kids somewhere to go and rest during the day and also get out of the sun. The boat also had to be big enough to take another family and their kids on for the day, and versatile enough to have the options to have a sit-down lunch, take the family fishing, or to have a lazy day swimming at anchor.

It also had to be a size I could handle by myself getting on or off moorings, or into jetties. We also wanted a boat that would stand the test of time both physically and from a design point of view. If the kids want to ski or be towed on a tyre or go to the beach, we leave mum in peace for an hour on the boat and take the kids out on the duck. We never travel very far, and when we do half the fun is in the journey; so, speed was not a priority. When we looked at all our options, the fibreglass boats that ticked the boxes had very elaborate cabin fit outs that we did not need and huge engine capacities that we also did not need.

This was taking us to a price bracket we did not want to go to, not to mention the running costs. When we looked at the second-hand fibreglass boats in this market there were a few things that stood out: they were all tired, the styles were dated, and they came with all the "uncertainties" of owning a second-hand boat. Then we realised we could get exactly what we wanted by building our boat through The Wooden Boatshop for the price that suited us.

The boat has proven to live up to all of our expectations and more, recently completing a leisurely trip to Tasmania stopping at numerous ports on the way down to Hobart. On the success of this trip, we have another one planned to Tasmania in 2010. It has proved to be a very low maintenance boat, very reasonable running costs, in a style that is classic and something that the family is very proud of and loves using."
DAVID SHERGOLD

Tideways