Clinker Dinghy
Overview


A perfect Australian lifestyle...

Our Clinker Dinghies are based on the Tasmanian cray-fishing tenders built by famous artisans such as Percy Coverdale, The Wilson Brothers and Ned Jack. Our boats continue the lineage of historically significant, beautiful craft. Big, beamy and balanced, the dinghies are renowned for being an absolute joy to handle under outboard, oar or sail. Today there is a growing fleet of Clinker Dinghies that regularly race and cruise off Sorrento. Clinkers are the perfect craft for learn-to-sail as they are simply rigged, easy to manoeuvre, and maintain the "feel" of larger vessels such as the Couta Boat. This is the ideal boat for those wanting to spend more time on the water, and as an introduction to the lifestyle and experience of owning a classic boat.

A beautiful balance of craft and tradition!

Our dinghies are hand built and traditional in every sense, with steam bent ribs, copper fastenings and laminated tapered knees. The boats are a feat in craftsmanship and skill; they are sculptural, practical vessels connected to a major aspect of Australian maritime history. We offer two sizes, as well as options for a centreplate case to cater for a sailing rig. Once you own a Clinker, you'll realise that these boats are emblematic of a dual synergy between care and craft and will spend endless days on the water messing around with friends and family.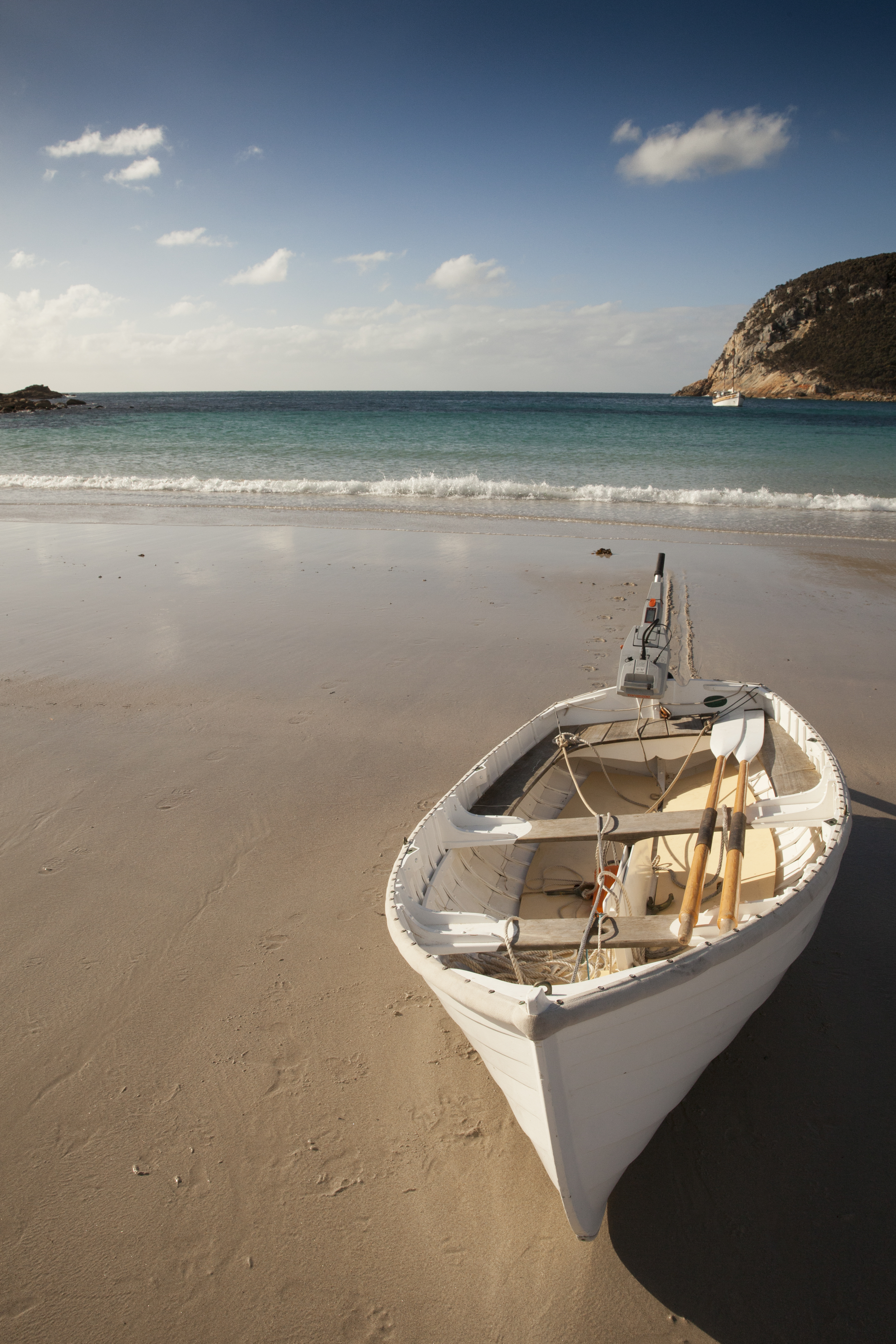 Model

10'6"
---
Length
10'6"
---
Beam
4'11"
---
Sail Area
63 square feet
---
Power
Torqeedo 1003 S/L Electric
---
Carrying Capacity
3-4 People
Model

12'
---
Length
12'
---
Beam
5'
---
Sail Area
104 square feet
---
Power
Torqeedo 1003 S/L Electric
---
Carrying Capacity
4-5 People
︎ Traditional construction
Glued seams with copper fastenings and steam bent ribs.

︎ Low maintenance
Minimal upkeep due to epoxy two pack finish.


︎ Versatile design options
Possibility of two sizes, set-up with a sailing rig or without.

︎Easy to handle The swing centreboard and rudder ensure leaving and returning to the beach is hassle-free.

︎Safe
The classic well-balanced design means the dinghies are extremely stable and easy to manoeuvre in all manner of conditions. The ability to row with oars can also come in handy if the wind dies!


Heritage


In the days of fishing under sail a Clinker Dinghy was an essential work boat for most fisherman. Beautiful, functional dinghies were built for rowing, sailing, and carrying a large load. The cray fishing dinghies often carried as many as 8 or 9 large cray pots.

The tender to the Storm Bay was a 12' dinghy, an extremely robust vessel to which many fishermen staked their livelihood on. She was fitted with a wet well that could keep up to five dozen mixed fish alive between "net-shots".

Some Clinker Dinghies were fitted for sailing; lug rigged with centreboards through the wet wells. There was always a fine line between the size of the boat and what one person could row, or two people could haul aboard the fishing smack, often hurriedly, sometimes in very hazardous weather when time was essential to escape a lee shore under sail.

Our Clinker Dinghy design utilizes the foundation of the earlier work boats and optimizes them for performance and utility. When you purchase a dinghy from us you can be sure it will last for generations.

Testimonials

"Some of my fondest memories as a young kid was spending time learning to row and playing around in my uncles' Clinker Dinghy. We used to use it as a way to get to sail training every day in the summer. I have always loved the look of The Wooden Boatshop Clinker Dinghies and admired how they can be so robust and used for so many different things. I am lucky enough to own one of The Wooden Boatshop Huon Pine dinghies. It is 14' and has a standing lug rig.
I use my Dinghy a few times each week to go sailing and fishing after work in the warmer months. I enjoy the simplicity of the lug rig, with one halyard and the mainsheet, I can have it rigged on the mooring and sailing away in 7 minutes. Rowing or sculling my Dinghy when it's calm is always fun and is a good form of exercise while enjoying time on the water.
Maintaining my Dinghy is a dream with the 2-pack paint and antifouling I can have it looking as good as new in a day or so. My friend Wayne Parr and I enjoy sailing our Dinghies in rough and windy weather, where we reef the sails down and head out in 25-30 knots and surf the Dinghies over the waves cracking 10 knots at times. I am looking forward to towing my Dinghy to the Lakes and Tasmania to go camping with friends as its fantastic carrying capacity means you can enjoy them with others.
Having done some cruising on Storm Bay and Jane Kerr I have used the Clinker Dinghies in a range of different conditions and environments where they constantly succeed. They are always the best tender and workboat. I love my Dinghy and will keep it forever as I feel they are a classic shape and a timeless boat for anyone who enjoys sailing or time on the water."
CHRIS JOHNSON

Elisabeth Claire
---
"I have rowed the Storm's Dinghy with heavy loads into contrary winds through long summer days and rarely became wearied of it. The Dinghy was in use for almost 40 years non-stop. When the family sold the Storm Bay in 1963, the Dinghy went with her."


JIM BRIDGE

T/T Storm Bay