Clinker Dinghy
Overview

Based on the fishermans type dinghies of old, our dinghies offer the opportunity to own something unique. Each model is available in two versions, to sail or row.
The gaff rigged sailing versions make ideal all-round knock abouts.
Copper fastened with steam bent frames, fitted with laminated and tapered knees, our dinghies boast great carrying capacities.
Our boats are built with a blend of modern technologies and traditional skills to ensure a hardy boat with a timeless elegance.
Our dinghy plans and materials are also available and present a challenging and fulfilling experience for the accomplished woodworker.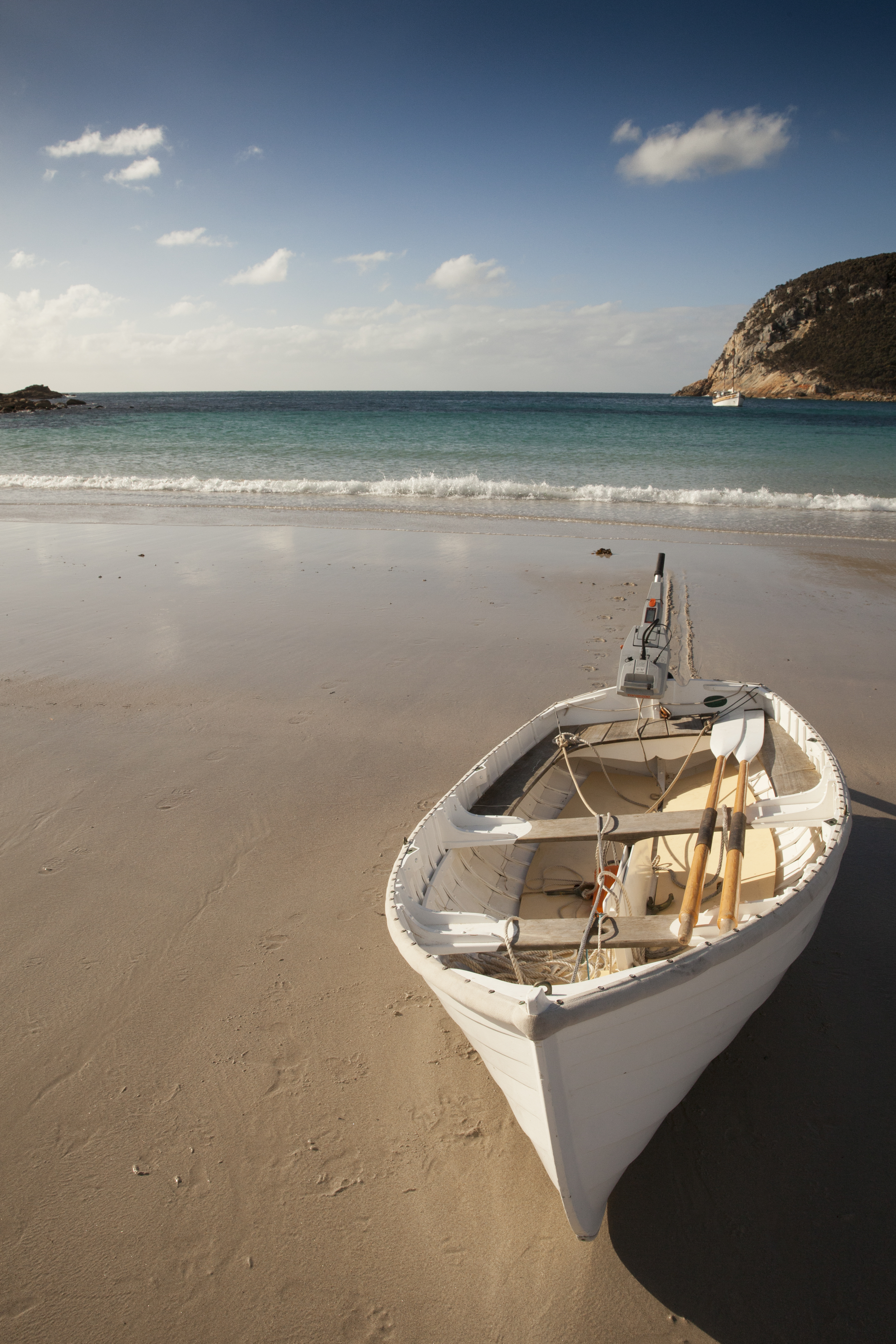 Model (L.O.A) 10'6"
Beam: 4'11"
Sail Area: 63 square feet
Power: 2 1/2 Hp outboard
Carrying capacity: 3 People
Model (L.O.A) 12'
Beam: 5'
Sail Area: 104 square feet
Power: 2 1/2 Hp outboard
Carrying capacity: 4 People
The original
Storm Bay
dinghy setting the cray pots
Heritage


In the days of fishing under sail a clinker dinghy was an essential work boat for most fisherman. Beautifully functional dinghies were built for rowing, sailing and always for carrying a large load. The Cray fishing dinghies often carried as many as 8 or 9 large cray pots.

The tender to the Storm Bay was 12' L.O.A. with a beam of 5'. The Huon Pine clinker planking was 3/8" thick, an extremely robust vessel to which fishermen staked their livelihood on. She was fitted with a wet well that could keep up to five dozen mixed fish alive between "net-shots" or returning to the Storm.

Some were fitted for sailing, lug rigged with centre-boards through the wet wells.

The load carrying capacity of this dinghy was quite amazing. There was always a fine line between the size of the boat and what one man could row, or two men could haul aboard the mother ship, often hurriedly, sometimes in very hazardous weather when time was essential to escape a lee shore under sail.
I have rowed the Storm's dinghy with heavy loads into contrary winds through long summer days and rarely became wearied of it. The dinghy was in use for almost 40 years non-stop. When the family sold the Storm Bay in 1963, the dinghy went with her.

JIM BRIDGE (1999)




The updated
Storm Bay
dinghy, made using huon pine



The WBS Dinghies are based on the Tasmanian cray-fishing boats built by such Famous artisans as Percy Coverdale, Wilson Brothers and Ned Jack, to tender big boats such as Storm Bay and Derwent Hunter. Big, beamy and balanced these dinghies were revered, today they are a joy to sail.

Whether drifting around fishing or going for a "Swallows and Amazon" camping cruise our dinghies can do it all. Quick and easy to rig their conservative, balanced sail plan will astound you when they ghost along in a light breeze, then get up and start to plane on the reach in a fresh breeze.

The swing centre-board and folding rudder make launching, retrieving & getting off the beach under sail easy. When the breeze is down the 2 hp outboard, a pull of the oars or skulling will shoot them home in a calm.

With all the beauty of copper fastenings and steam bent frames, long stylish graceful knees our dinghies are available in solid timber or plywood clinker construction, epoxy 2 pack painted making them virtually maintenance free.