Flagpoles
Overview

A "ships mast ashore"

A flagpole, an ancient form of communication, represents a "ships mast ashore". For thousands of years mariners and seafarers have used flags to transmit messages, and a flagpole today conjures all the romance and nostalgia of a life by the sea.

Superior in every sense!

The Wooden Boatshop Flagpole is traditional and superior in every sense. We use laminated structural grade timbers with penetrating epoxy wood preserver, finished white with two coats of marine quality two pack paint. This combination packs a punch! The traditional timber pole looks and feels better, and the finish ensures it can withstand the full spectrum of weather conditions – the best of both worlds.



Dimensions
Add 4" for tabernacle to calculate height of pole above ground. The flagpole should generally be the higher than the building or structure nearby.
︎ 20' (6 metres)
Suitable for small homes or units. These poles are often used in a row by event organisers. Suits 2 yard flag.

︎ 26' (7.8 metres)
Recommended size for the average suburban home and other medium size single storey buildings. Suits 2.5 yard flag.

︎ 30' (9.2 metres)
Larger two storey homes and buildings. Option to add yardarm and gaff. Suits 3 yard flag.


︎ 32' (9.75 metres)A beautiful flagpole for houses and larger properties, including two stage topmast, with yardarm and gaff. 3 yard burgee on the top, 3 yard ensign on the gaff & 2.5 yard flag on the yard.

︎ 40' (12.2 metres) A statement flagpole for estates, sailing clubs or golf clubs, or for use in schools and communities. Includes two stage topmast, yardarm and gaff. 3 yard burgee on the top, 3 yard ensign on the gaff & 2.5 yard flag on the yard.

︎ 60' (18.3 metres)A whopper flagpole, and sure to impress! For town centres, clubs, schools and when you'd like to make an impact. Includes two stage topmast, yardarm and gaff. 4 yard burgee on the top, 4 yard ensign on the gaff & 2.5 yard flag on the yard.



︎ Handmade & traditionalA traditional wooden flagpole is superior in every sense. With yacht braid halyards, galvanised steel bases and bronzes sheeves, our flagpoles are evocative of the beauty and romance of a life by the sea.


︎ A wealth of experienceWe've installed hundreds of wooden flagpoles all over Australia and are experts at surveying the site, fitting the pole, and ensuring the process is completely hassle-free.


︎ Stands the test of time If our flagpoles are adequately upkept – and not installed nearby sprinkler systems – they will stand the test of time and look great for many years to come. An investment and statement for your home!


Testimonials
"My Wooden Boatshop flagpole has been standing proud for 37 years!"
DAVID TODD
Please Note
Ingress of freshwater into the wood and/or end grain of the flagpole will cause rot, an intact paint film will protect the flagpole from water ingress. We advise that a new flagpole should be initially painted at three years from new & thereafter, annually visibly inspected and as a rough rule of thumb painted every five years. The thru bolts require sealing to eliminate any water ingress.

Water sprinkling systems are not recommended in the vicinity of a flagpole. It is recommended that the halliards be endless, with adjustable Ronstan PNP 16 sister clips.
Shipwrights


Process oriented and results-driven

Our team is highly skilled in all aspects of boat construction, design, maintenance, and restoration. Our approach is rigorous and unique – we are process oriented and results-driven. From small Clinker Dinghies, to 50' Motor Launches, our vessels encapsulate a unique blend of practical, traditional design with cutting edge technological advances.

Collaboration, always

Our shipwrights possess an incredible depth of knowledge highly potent in scope and passed down through local fishermen and boatbuilders. Our collaborative workforce, which has our engineers, architects, shipwrights, mechanics, and electricians working together, ensures our results are of the highest quality and achieve the best solutions.

We're experts in what we do

Whatever the project, we're ready for construction, restoration, repair, or alteration on all manner of vessels. Get in touch with your project today!




︎ Advice and consultation
︎ Wooden boat construction
︎ Museum restorations and reconstruction
︎ Laid teak decks
︎ Frame repair and refastening
︎ Caulking and leak repair
︎ Fit out and joiner
︎ Structural and cosmetic repair
︎ Worm damage and rot repair
︎ Wooden mast and spar construction
︎ Engine bed and stern tube alterations
︎ Maintenance management
Boatyard

We offer a full-service experience, boats are hauled out, maintained, safely stored, and launched upon request.

The Wooden Boatshop offers secure and convenient out-of-water shelter for recreational craft. During winter and spring, the boatyard is near capacity, with Couta Boats and Launches receiving their annual maintenance before returning to the water for the warmer months.

We handle it all for you!

The full working boatyard includes two travel lifts and three large, adjustable, tri-axel road trailers specifically designed for hauling out and launching Couta Boats, along with other traditional wooden boats.
︎ Haul out and return to water
︎ Storage
︎ Work on your own vessel
︎ Fully stocked chandlery for materials, equipment and informal advice
︎ Access to The Wooden Boatshop full range of services
︎ Boat stands, shoring up equipment and yard trolleys supplied
︎ Undercover areas for major works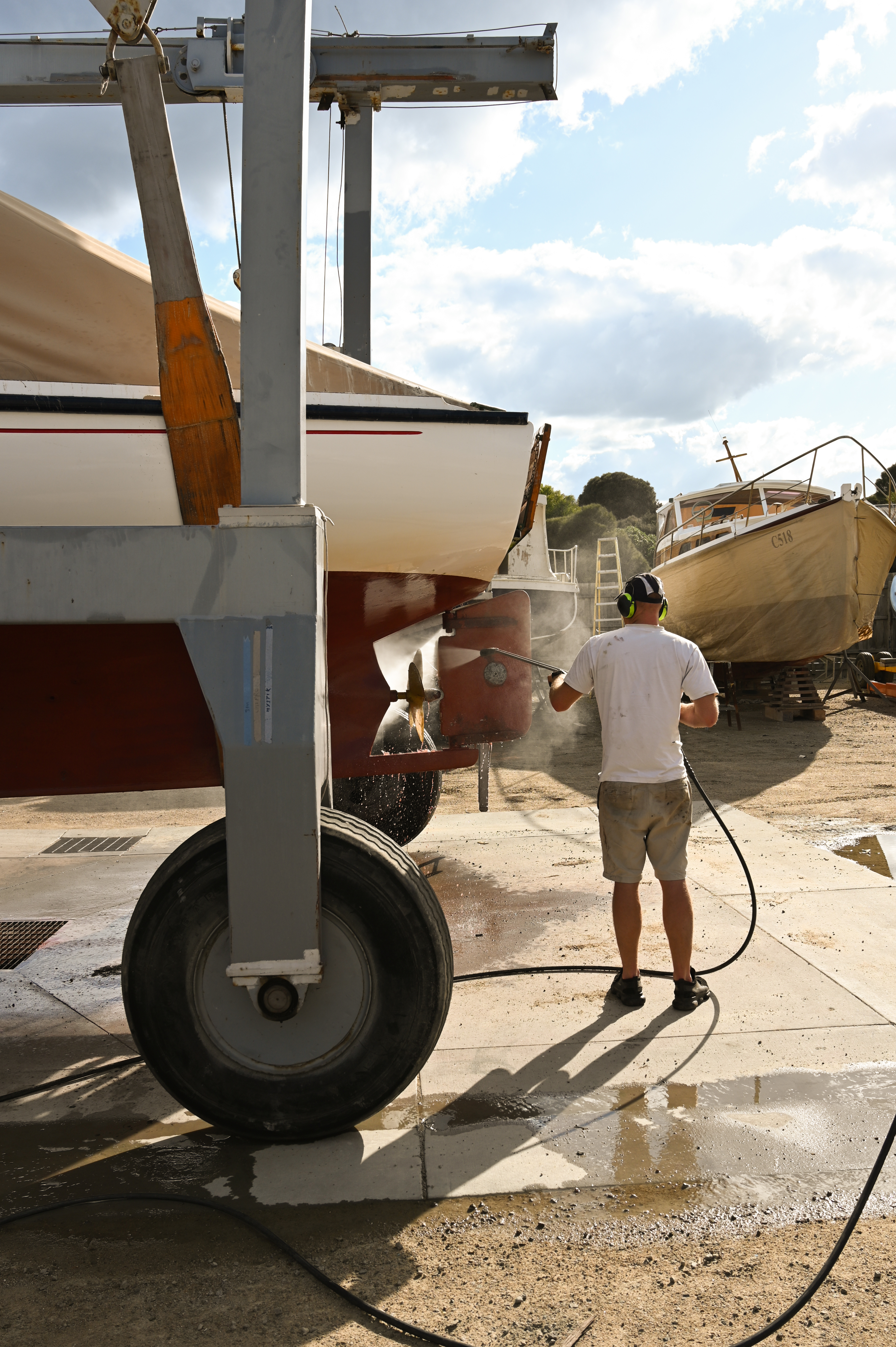 Testimonials

"The Wooden Boatshop have been undertaking the slipping and maintenance of T'Ellen, our Beneteau Oceanis 34, for the last two years. This has involved more than just antifouling, polishing and engine service as we requested several technical upgrades to our boat during that time. The Wooden Boatshop have made recommendations that have improved our enjoyment of sailing.

Tim Phillips and The Wooden Boatshop's exceptional boating knowledge instils confidence in the maintenance performed, and the boat has been very reliable while under their care. Their service runs to taking our boat from its berth at Blairgowrie Marina to Queenscliff to be slipped and then returning to our berth on completion. Nothing is too much trouble and their advice is excellent.

I am happy to highly recommend the team at The Wooden Boat Shop for those boat owners that want high quality service."
ROBERT & TRACEY DE POI

T'Ellen
Marine Trimming, Sails & Boat Covers

Since we incorporated a marine trimming and sail repair loft we've been able to raise the bar and develop high standards of marine upholstery and finishes. Our 42 square metre loft is equipped for the manufacture and repair of covers, sail repairs and alterations.

We use a walking foot straight stich machine, and a long arm zig zag machine. We keep stock of generic hardware materials, so we're able to work quickly and directly with clients.


Works that have been undertaken include stack pack and lazy jack systems, U.V cover replacements on furling headsails, customised sheet bags and lee cloths, clear covers and upholstery on cruisers, domestic shade sails and furniture covers.
All covers and upholstery on our range of boats are manufactured in our loft.


Marine Engineering
Design engineering & fabrication


Our engineering team have an extensive knowledge base to draw from to complete any project – big or small – with expertise. Our workshop is equipped with a large capacity lathe and milling machine, sheet metal guillotine and folder and welding equipment. We stock a large array of consumable products, such as ground shaft material, stainless steel sheeting, tubes, rods, and other fittings.


Shaftline work on any boat


We complete shaftline work to an impeccable standard – and can take on any such work for individuals, facilities and companies. Get in touch with your enquiry today!