Open hours:
Monday - Friday: 8am-5pm
Saturday: 9am-12pm
Sunday: 10am-12pm

Visit:
129 Hotham Road, Sorrento, Victoria, Australia

Telephone:
61 3 5984 4 333

Email:
sales@woodenboatshop.com.au

Outpost:
Shed 4, 10 Wharf Street, Queenscliff, Victoria, Australia

︎
We respectfully acknowledge the traditional custodions of the land and waterways on which we live, work and play, the Boonwurrung people of the Kulin Nation. We pay our respect to Ancestors past, present and future. Sovereignty has never been ceded.


When Tim and a group of like-minded friends were messing around with old couta boats, they started the Portsea Fishing Boat Regatta (now The Portsea Cup). In the late 1970s Tim identified a strong interest among the public for recreational boats with working origins.

Already a master builder Tim undertook an informal boat building apprenticeship, restoring Couta Boat Wattle with Jack Norling and building the 28' couta boat Sally with Ken Lacco. The Wooden Boat Shop was then founded upon a desire to share in the romance and pleasures of wooden boats and the nautical lifestyle.

From a humble garden shed beginning, The Wooden Boat Shop evolved into an operation with five factories over two locations, offering services from a D-shackle on a Sunday morning before sailing, to new vessel constructions and a complete boat range.

If you are interested in learning more, please don't hesitate to get in touch.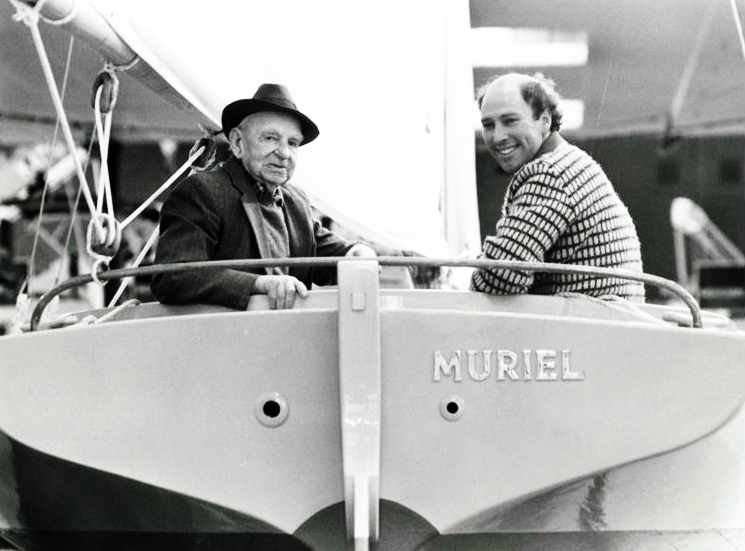 Andy Johansson, the original owner of Muriel, and Tim Phillips at Melbourne Museum in 1985
Queenscliff Boatbuilding Shed



In addition to our central headquarters in Sorrento, our Queenscliff shed is often bustling with activity. Operating now for about a decade, our outpost in Queenscliff represents the Wooden Boat Shop's enduring commitment to engaging with maritime history. The shed is located on the iconic Queenscliff wharf, amongst retail outlets, cafes and restaurants, the Queenscliff ferry and fishing boat harbour.

We offer the full range of services available from our central location in Sorrento, extending across the sprawling Bellarine Peninsula. Focused activities include the construction of Sorrento Sailing Couta Boat Club's Cheviot 32 Volunteer, as well as a number of other boat constructions, including a Kooyong 28. We encourage enquiries about the possibility of new boat constructions, flagpoles, or any type of service relating to boats!


Visit:
Shed 4, 10 Wharf Street, Queenscliff, Victoria, Australia
Monday - Friday: 8am-4pm



*Please note: The shed is not staffed, visitors may speak with our boatbuilder.

Sustainability



Commitment to Materials

We are committed to ensuring our business model utilises sustainable and ethically sourced timbers and does all that is possible to reduce its carbon footprint. We utilise Cedrela, a plantation grown timber endemic to Africa and whose fragrant aroma is resistant to insects and termites. Cedrela is a wonderful boatbuilding timber, due to its strength-to-weight capacity. It was first used by Joshua Slocum on his boat
Liberdade
, built in Brazil. Cedrela saws, sands and bores well, is easy to glue and nail, produces an excellent finish and has a high impact resistance.
Likewise, we also use Iroko and Makore, both timbers are endemic to Africa, and commonly used for boatbuilding purposes. Iroko is known to be an extremely durable timber. American White Oak, an excellent all-round timber commonly used in high-grade furniture and boatbuilding, is utilised for steam bending and much of the finer details on our boats.
Our importer upholds the strictest standards of due diligence and ensures timber products are regulated and traced using licencing, records of audits, log delivery documentation and forest concession licences.
The foundation of the Wooden Boat Shop rests on that of the historic fishing vessel, the couta boat. We envision boats as being built to last well past the lifetime of those individuals who construct them. We apply our ethos of long-term thinking to the restoration of historic vessels, and are devoted to ensuring that the materials we so greatly value do not ever go to waste.
Achieving Net Zero


While we take great pleasure and enjoyment from the natural environment, we acknowledge Global Warming and Climate Change presents a litany of major threats toward future generations of seafarers and land-lovers alike. We pledge to achieve Net Zero emissions by 2030. This will be accomplished through a combination of solar energy and the transformation of our fleet of vehicles and forklifts to electric power. We plan to install car charging stations at the Wooden Boat Shop premisis in Sorrento in the coming years.




News
Our Newsletters – cruising, new boat constructions, Bass Strait adventures and lots of fishing...
From Esperance to Fremantle, 16 days!
Sun, April 18th, 2021
Cruising the Kent Group Islands at the beginning of 2021!
Fri, March 19th, 2021
Instead of our annual trip south to cruise Tasmania and Bass Strait in February, we chose to join Gary Kerr in going west...
Thu, April 30th, 2020
Off To The Festival! We on the Storm Bay left Sorrento in company with Gary Kerr's crew of Jane Kerr...
Thu, March 14th, 2019