Shipwrights

Our team is skilled in all aspects of boat construction, maintenance and repair and have vast experience in engineering solutions that ensure cost effective uncompromised results.

The Wooden Boat Shop is a hive of activity with our crew of qualified shipwrights working on various projects, including new builds, restorations, repairs, assisting owners and providing advice.

Our team of shipwrights have a broad spectrum of skills from wooden hull construction all the way through to repairs on composite construction vessels.

Our Shipwrights work with our other service departments, such as mechanical and marine engineering to deliver professional standards on alterations required for all installation of equipment and repowers.
We undertakes repairs on yachts, powerboats and commercial craft on behalf of the major marine insurance companies:

- Advice and Consultation
- Wooden boat construction
- Museum restorations and reconstructio
- Laid teak decks
- Frame repair and refastenin
- Caulking and leak repair
- Fitout and joiner
- Structural and cosmetic repai
- Worm damage and rot repair
- Woomast and spar construction
- Engine bed and stern tube alte
- Maintenance management
Case Study: Building Camilla Rose

Photos by Jos Law
These images document the construction process of the Couta Boat Camilla Rose, built onsite at Wooden Boat Shop in 2002. Every aspect of the Couta Boat is made by hand, even including the blocks and cast bronze fittings.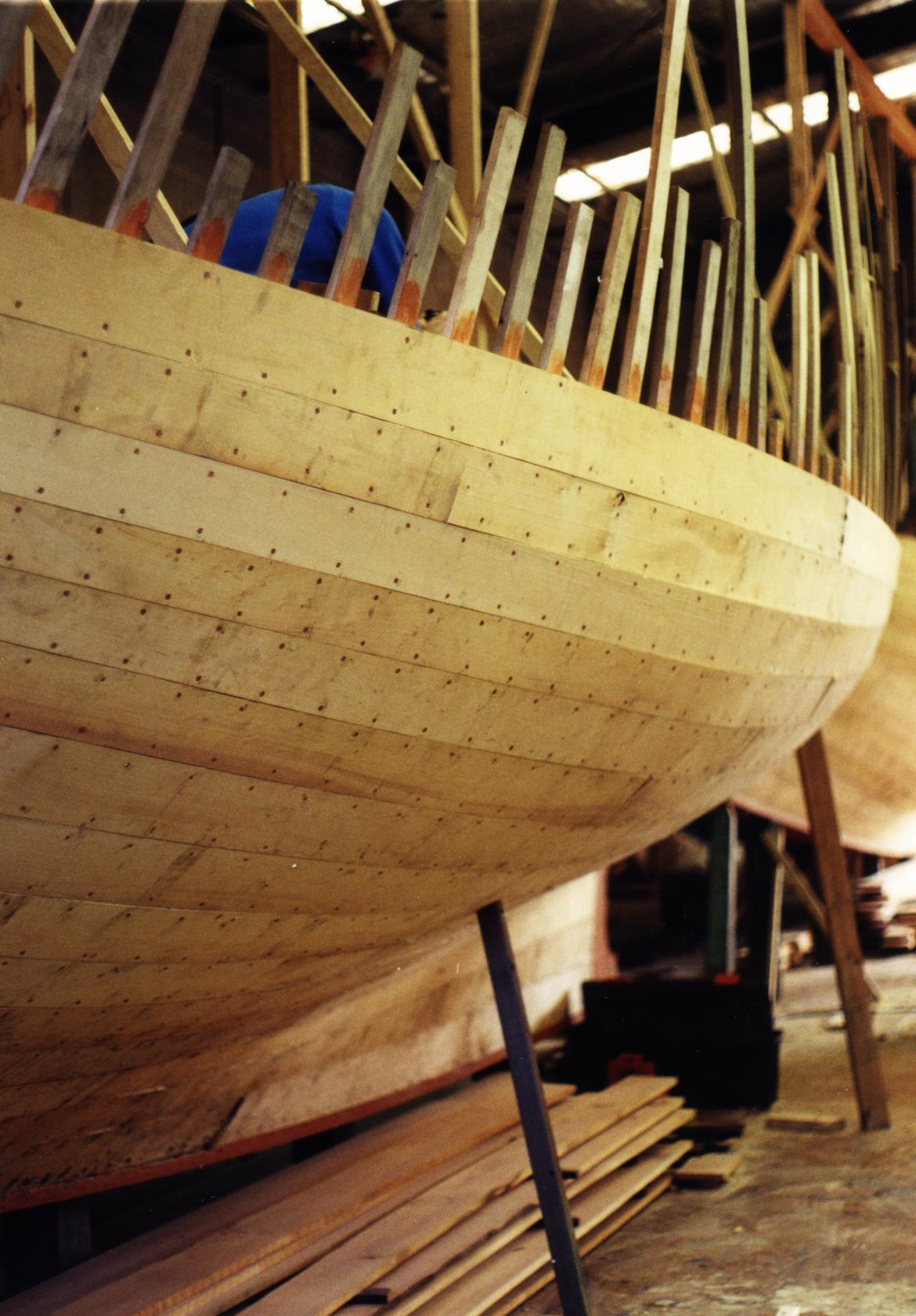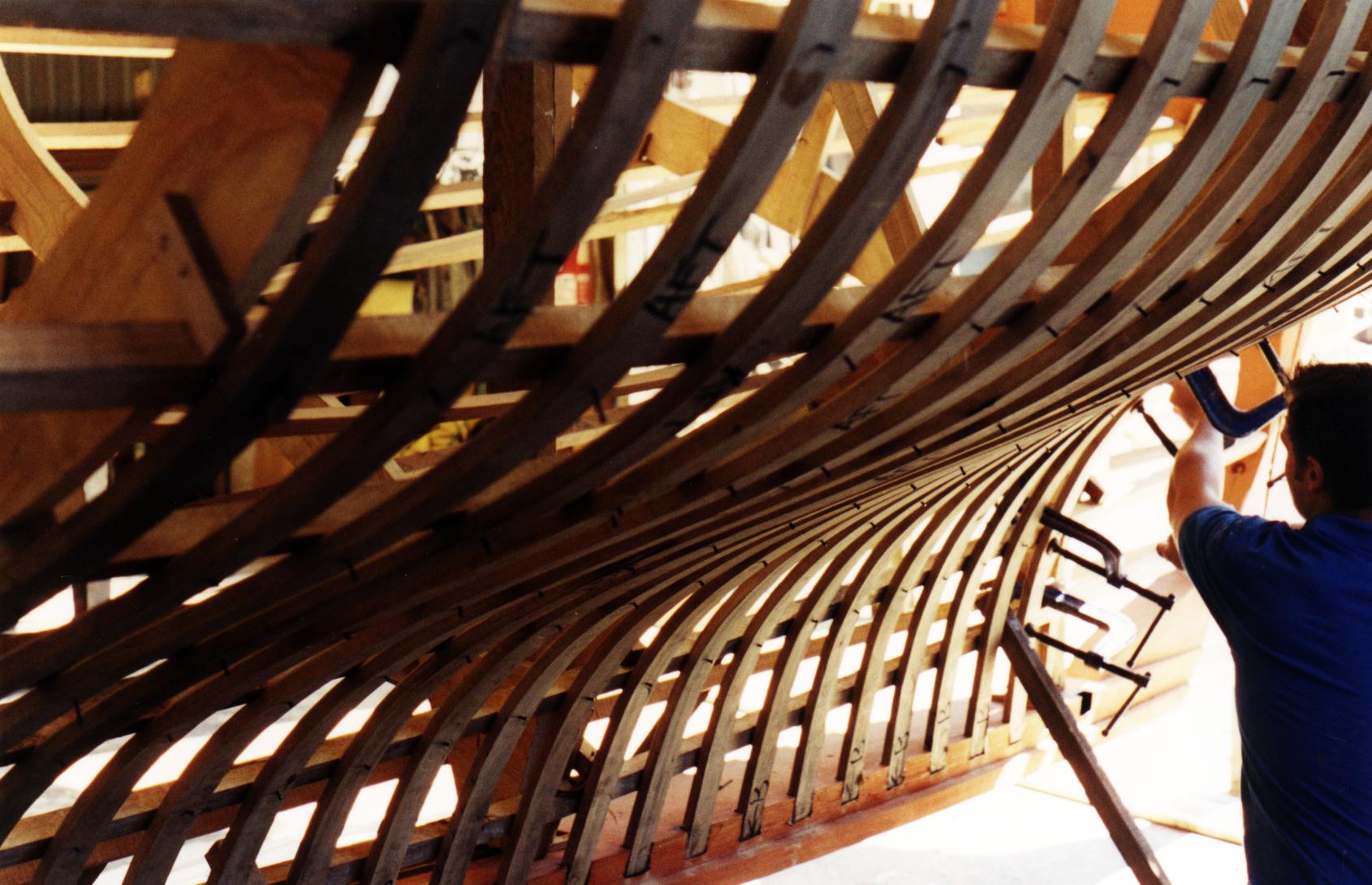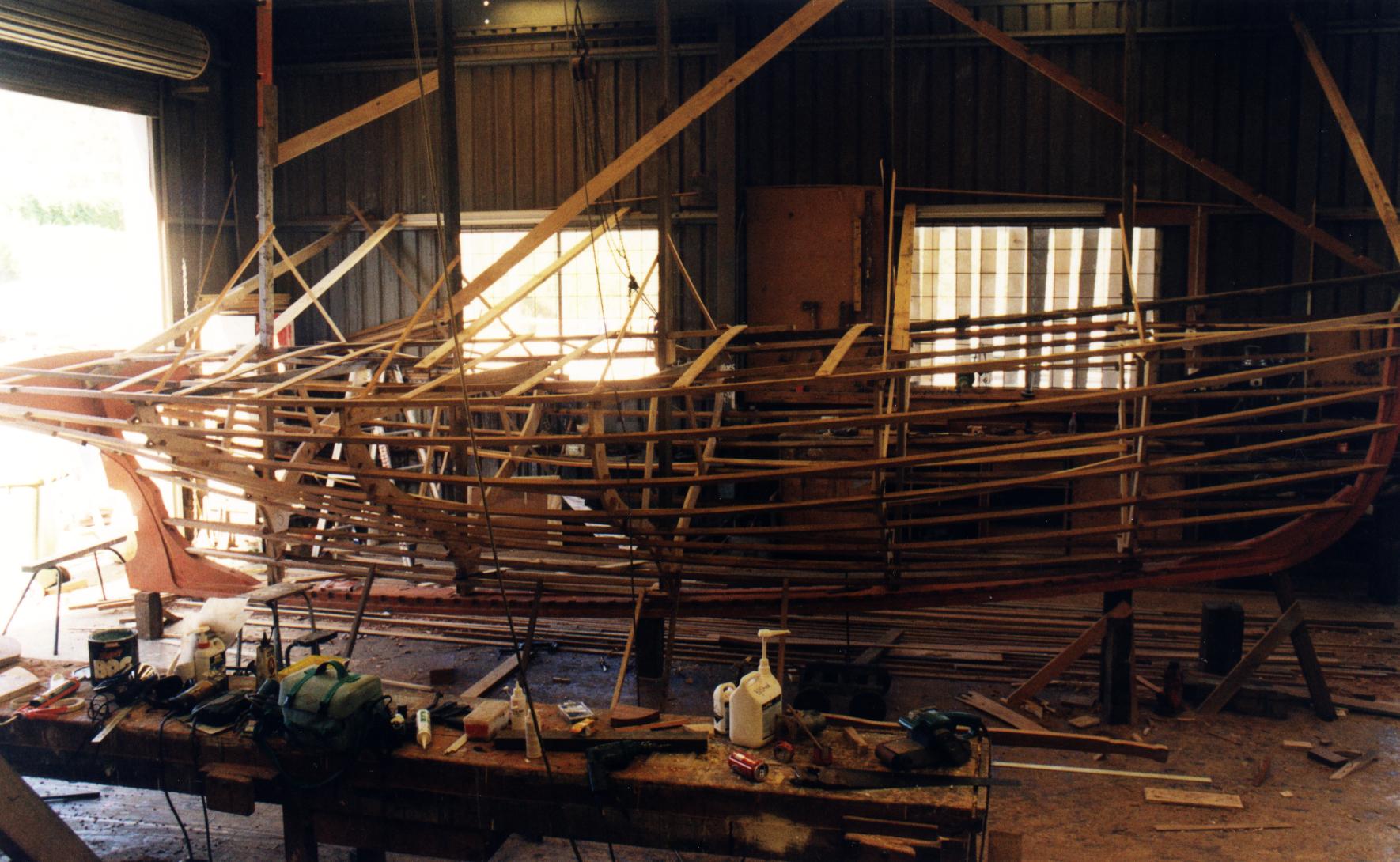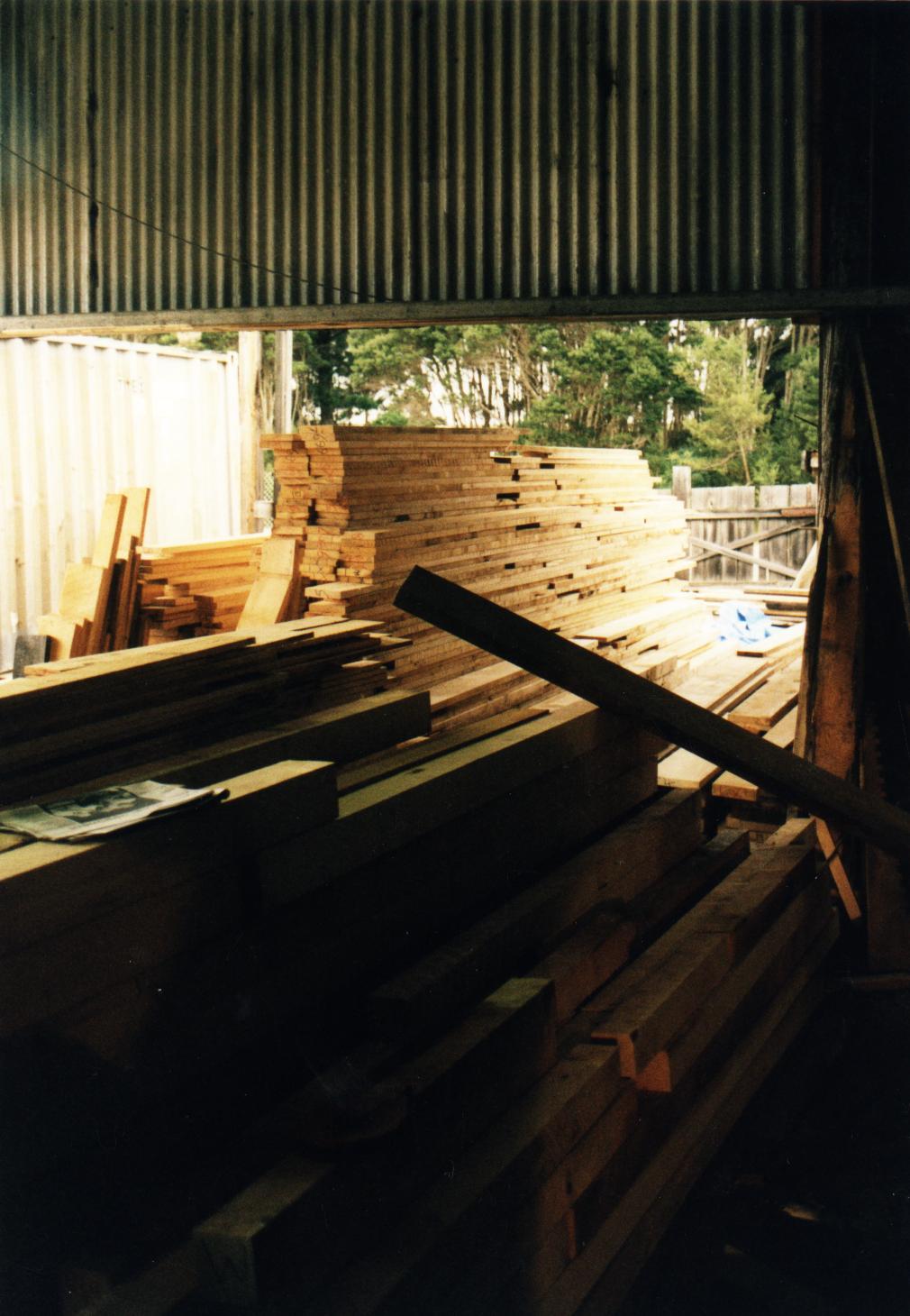 Case Study: The restoration of Storm Bay



The ten-year restoration of Storm Bay took place at Wooden Boat Shop in Sorrento




Originally designed by Alfred Blore, Storm Bay was built by renowned Tasmanian shipwright Percy Coverdale in his yard at Nubeena, south of Hobart. George Bridge, the patriach of a well-known family and third-generation fisherman working from Hobart commissioned her design and build.

She was launched in Hobart in July 1925.





Named for a small inlet in the Tasman Sea, which indents southeastern Tasmania, Storm Bay is about 16 miles long and 25 miles wide and is bounded by Bruny Island and the Tasman Peninsula.

George Bridge ultimately named his boat after the area he spent his life fishing.


Of her launch
The Mercury
reported:
"…Storm Bay is a very handsome addition to the Tasmanian fishing fleet. Looking at the smack as she stands at present she resembles a cruising yacht rather than a fishing vessel – her lines are graceful and she should prove to be speedy under sail."
Purpose-built
Storm Bay
was George's last boat and built at a time when the Tasmanian fishing industry was at its peak. The Bridges' worked and immaculately maintained
Storm Bay
until 1963.
Storm Bay
was their pride and joy.
Jim Bridge
recalls:
"It was not an easy job using such a lovely boat as a working fishing boat but George insisted that she be well cared for during this period of her life... especially with her yachting lines when speed did not help a well full of fish or heavy wash across her decks would quickly remove dinghy, nets, and sundry fishing gear quite quickly!!"
The Bridge Family on board Storm Bay






The Bridge Family retail operation on Constitution Dock in Hobart





Footage of Storm Bay fishing under sail for barracouta in 1929, in the Storm Bay area. Barracouta are caught and landed on the deck of a boat using a jig attached to a pole. Fish are cleaned and filleted and the waste thrown overboard. Footage courtesy of National Film and Sound Archive Australia.









Through a succession of three different owners from 1965 to mid-1980s Storm Bay worked out of St. Helens in northeastern Tasmania as a cray fishing boat, she also had a stint serving abalone divers, and even had a scallop dredge on her stern for a time. Along the way she aquired a wheelhouse, had her topmast set down and generally had her rig reduced.




By 1996 she was all but completely delapidated and had returned to the piers at Constitution Dock in Hobart, albeit in an entirely different condition to her early years.
Winston Churchill, a boat built by Percy Coverdale in 1942 was near identical to Storm Bay (6" less beam, identical hull shape but without the centreboard through the wet well and with a lead keel). Winston Churchill was pichned in a bit at the stern because Percy didn't like Storm Bay's wide stern, which was designed for two men to stand abrest a pole barracouta from.





Winston Churchill begun her life by serving as a lighthouse tender to Southern Tasmania. She was skippered by Percy in the very first 1945 Sydney-Hobart Ocean Race and placed 2nd overall.

Contrary to her sister Storm Bay she spent her life operating as a yacht and competing in ocean races around the world. Twice she circumnavigated the globe and all up she competed in 17 Sydney-Hobarts.



Sadly, the infamous 1998 Sydney-Hobart was her last race, she was wrecked with three of her crew-members tragically drowned.

Mechanical
The Wooden Boat Shop has a long history installing and servicing Yanmar engines. When Power Equipment, Australia's importer of Yanmar Diesel engines was founded back in 1990 Wooden Boat Shop became an official Yanmar dealer.

With the WBS's iconic Couta boats almost exclusively being powered by Yanmar engines and countless installations on yachts and luxury launches, it is the partnerships between Yanmar, Power Equipment and Wooden Boat Shop that has established the southern end of Port Phillip Bay as Yanmar Territory.

With comprehensive facilities at Sorrento and Queenscliff for handling all manner of vessels, engineering welding and mechanical workshop with comprehensive parts inventory. WBS and our team of qualified shipwrights and trained technicians have the resources to undertake your mechanical and engineering requirements.
Painting

We work with antifouls, enamel, oil, and clear varnish finishes all the way through to high end two pack hand application and spraying.
We also stock a wide range of paint and painting consumables in our chandlery. Staff are available for technical advice on painting materials and procedures.

- Painting advice and instruction
- Hand finished enamel and two pack polyurethane
- Brush, roller and airless sprayer application of antifoul
- Norglass weatherfast gloss and Northane gloss full range in stock
- Non-skid deck paint
- Altex varnish, Sikens Cetol wood oil varnish
- Intergrain decking oil and acrylic varnish, decks olje
- Antifouling: Altex, International, Carboline
Propspeed approved applicator
- Sign writing design and application