The Wooden Boatshop Calendar 2024

Save all your important dates in The Wooden Boatshop 2024 calendar. Discover breathtaking photos each month of the year. A perfect Christmas present for a loved one or friend. Each page is a3 in size. Now shipping. Pick-up available.
The Wooden Boatshop Calendar 2023
Enjoy The Wooden Boatshop photography each month of the year with our 2024 a3 size calendar. The perfect addition to any boat or home. You'll be counting down the days until summer!
SOLD OUT
The Wooden Boatshop Wide Brim Hat
Our durable canvas wide brimmed hat for 100% sun protection. The canvas is thick, underside of the hat is sea green and there is a cord to ensure the hat doesn't blow off in the wind. Breathable vents. Tried & tested.
The Wooden Boatshop Cap
The Wooden Boatshop hat for sun protection. Breathable nylon vents, made with polyester. Matte fabric.
The Wooden Boatshop T-Shirt
Comfortable t-shirt with large logo on the back and small logo on front. Excellent, durable quality made with lightweight cotton. Sam wears size XL.
The Wooden Boatshop Polar Fleece
Warm polar fleece jacket in navy.
SOLD OUT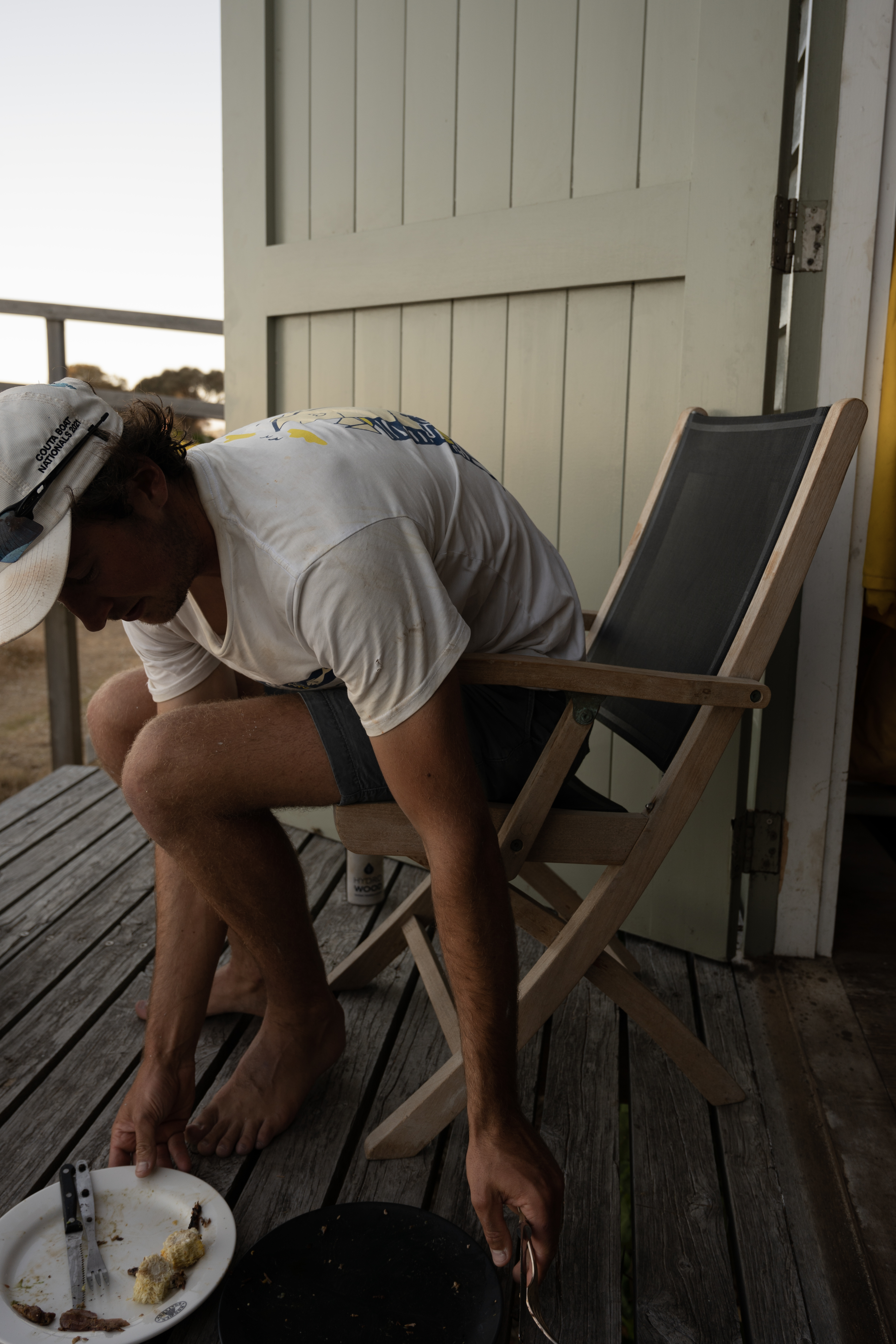 The Wooden Boatshop Boat Chair
The Wooden Boatshop chair specifically designed for use on our Launches. Beautifully designed and crafted, they patina and age well, don't stay wet and are foldable.
Available for pick-up only.
The Wooden Boatshop Storm Bay Carry Bag
Expert craftmanship has gone into handmaking these one-of-a-kind carry bags from Storm Bay's Main Sail. Each bag is slighly different. Made by Geoff in The Wooden Boatshop sailmaking loft.
Torqeedo Electric Outboard Cover

Handmade electric outboard cover that suits a Torqeedo model 1003.
The Wooden Boatshop Mug
Porcelain fine china coffee mug with The Wooden Boatshop logo. Classic shape and perfect for the boat!
The Wooden Boatshop Stubbie Holder

Stubbie holder for keeping drinks cool, with The Wooden Boatshop logo.
The Wooden Boatshop Canvas Fender

Our canvas fenders have excellent durability and look great and classic on any boat.
Due to bulk fenders may incur an additional shipping charge.
Small
370 x 300 x 100mm
Large
480 x 380 x 180mm
The Tradition Lives On

A 424-page coffee table book exploring the multifaceted and rich tapestry of history of the individual Couta Boats in the largely Victorian fleet of fishing boats. The book has been lovingly collated by the Couta Boat Association and considers the substantial history and at-times hilarious and incredible stories of the many beautiful boats in the fleet. The book contains some remarkable photographs and is a much-needed account of the wooden boats and their illustrious owners. Highly recommended.
First Home
This large format coffee-table book traces the history of a distinctly Australian fishing boat and culture. This hardback book, by
Michael Innes
and
Steve Burnham
, records the rich but almost forgotten story of the classic Couta Boats that fished the stormy waters of Bass Strait off Victoria's west coast. More than 200 previously unpublished photos and scores of fishermen's tales chronicle a voyage of rediscovery. Along the way, the "Couta Coast" appears, an important addition to Australia's maritime heritage and historical record.
Two Men in a Punt
The Huon Pine grows in the wet temperate rainforests of Tasmania. Slow growing, some trees have been dated at over three thousand years old. Fine grained, stable, and containing a special oil which inhibits rot, it was quickly recognised by the pioneers as ideal for boat building and a host of other uses. This DVD follows in the wake of the old piners - the men who logged the Huon Pine - and is enriched by interviews whose content dates back to the 1930s.
Trading Out of Stanley

Now a quiet fishing village and holiday destination, picturesque Stanley lies on Tasmania's north westcoast. For 160 years it was a bustling trading port with timber and farm produce being its main exports. In this DVD we hear from seamen who worked the little ships as well as the Islanders who earned a hard and honest living grazing livestock and mutton birding.
The Last Cape Horners
The last Cape Horners is a journey through time that links two unlikely places, Port Victoria in Australia, and the Aland Islands of Finland.
Now old men, the Cape Horners of Australia and Finland, happily share their stories. Some speak of the romance of the sea, others shudder at the terrible conditions, but all agree it was an experience that shaped their lives and one they would not have missed for the world.
The Couta Boat
The story of the Couta Boats which evolved to sail to fish for Barracuda off the rugged Victorian coast. In recent years they have made a remarkable comeback as pleasure craft through their rugged simplicity, ease of sailing, versatility, and their direct link with our maritime heritage. Much of their story is told by men who actually built and fished in them in the 1930's. Includes new and archival footage, some dating from 1915, plus dozens of period photos.
Pearl Shell Divers
Having just done a three-day hard-hat course, I am of course an expert on the dangers that the early pearl divers faced. But did they know of the dangers! They saw the results of the bends, but did they know how to prevent them? Were they so desperate to earn a living that they had to face the unknown 'terrors of the deep' – the sharks, huge groupers and giant clams?
Garry Kerr
's excellent DVD answers these questions through the candid, fascinating, interviews with some of the men who donned a hard-hat on Thursday Island after the war – after the Japanese, who had dominated the pearling industry prior to the Pacific War, had departed the island. We must be grateful to
Garry Kerr
for recording the memories of these most courageous divers now well into their twilight years. Of further interest in the documentary movie is several very interesting extracts of a 1970s government film unit documentary called 'Pearlers of the Coral Seas', and the famous
Chips Rafferty
film 'King of the Coral Sea', which, incidentally, gave
Rod Taylor
his start.
Gift Voucher

Printed onto Japanese handmade paper. Leave a message for a loved one or friend. Never expires. Enter message at checkout.
If you would like to use your gift voucher to redeem an online purchase, please call us.
Anchor 12 kg
One 12kg used-condition anchor for sale from our factory in Sorrento.
Available for pick-up only.
Anchor 22kg
We have two 22kg anchors for sale, they're great sand anchors and in good solid condition.
Available for pick-up only.
Anchor 25 kg
A 25 kg anchor in second-hand condition, priced to sell.
Available for pick-up only.
Anchor 35kg
A 35kg good condition second-hand anchor. Priced to sell.
Available for pick-up only.
Anchor 37kg
For sale is a good quality 37kg second-hand anchor. A small amount of refurbishment could have this anchor like new.
Available for pick-up only.